This French-made double bass had a past scroll fracture that failed after the crafting of an extension for it.  We began by using water to completely disassemble the scroll…which wasn't hard!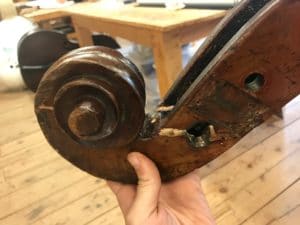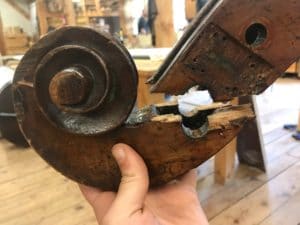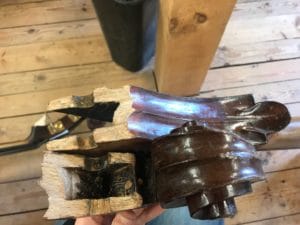 The original repairs were simply glued, there were no reinforcement grafts added.  We began by making a simple caul, shaped to the back of the scroll, and packed with thick cork.  Initial glue up went as predicted but with the added tension of an extension, we have opted to reinforce the glue joints with grafts, as well as brass plates.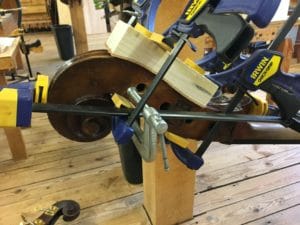 First, the peg hole was reamed heavily and a maple bushing was turned on the lathe.
The wood grafts we glued in place in a "non-traditional" grain orientation as our goal was reinforcement over aesthetics since the plates would all but hide the cheek grafts, and they create a "blind" bushing.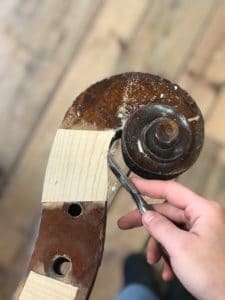 All touched up!  Now to start the plate crafting.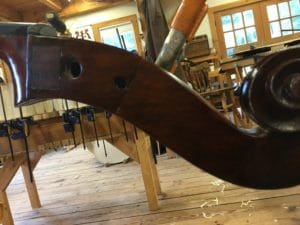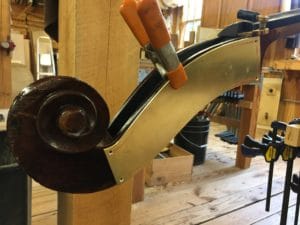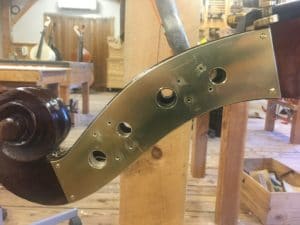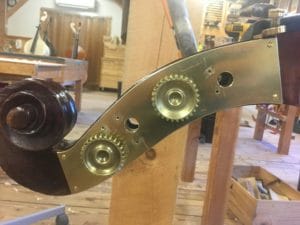 Carefully laying out the tuners balancing function and form.  Adding to this challenge was only two of the 4 thumb screw assemblies matched (although all 4 gears are matching).
After a gentle bath in our antiquing solution to match the patina of the gears, we're ready for final assembly.