Who's Playing an Upton Bass?
You've read about our stellar reputation on bass forums and internet blogs. But did you know that Upton Bass is endorsed by some of today's premiere double bassists?
Featured Artist
Victor Wooten
Explore the Double Bass!
Welcome to Upton Bass, the home of all things double bass
Learn more about the double bass, the Upton workshop and our unique approach!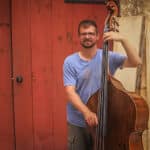 Double Bass
Professional Bass Service
Professional Setup and Repair Services
We have provided world-class repair, setup, and service since the beginning. In fact, the "Upton Setup" quickly became well-known among working…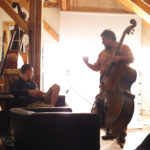 Services
Upton BassTube Videos
Visit our BassTube page for more videos. More
Double Basses
Upton Bass String Instrument Co
Welcome to Upton Bass String Instrument Company of Mystic, Connecticut.
Upton Bass specializes in building custom handmade double basses with designs developed over years of working closely with some of the world's finest upright bass players.  A restoration shop since the beginning, Upton Bass stocks and services historic and fine vintage double basses. We have also developed the UB Standard line for those on a budget, built in our shop alongside our finest instruments.
Are you looking for double basses for sale?
Upton Bass is open to the public – our shop and showroom are open Tuesday through Saturday.  Please call us in Connecticut at +1 (860) 535-9399.  As players, builders and enthusiasts, we're always up for talking upright bass! Our bass models combine our love of tradition with a modern sense of tone, ergonomics, and design. Models such as the Concord, Brescian, Mittenwald, and Bohemian upright bass reference classic instruments from America and Europe, while the Karr and Bostonian represent original directions based on our collaborations. Upton Bass instruments have won worldwide acclaim and awards, but we are the proudest of the list of musicians who play Upton's – artists including Gary Karr, John Patitucci, Eric Revis, Marc Johnson, and Lynn Seaton.  Their musical insight and feedback are reflected in every instrument we make.  And every Upton is proudly made in the USA – from the first tonewood selection to the final setup, all Upton Bass double basses are built by hand in our workshop in Mystic, Connecticut. We also offer a comprehensive selection of strings, pickups, bags, amplification, and accessories each developed or rigorously selected to meet the needs of the modern double bassist.  Our repair and restoration services range from a simple adjustment to a full-blown rebuild of the upright bass in a thousand pieces! Every Upton Bass instrument is hand-built in our workshop in Mystic, Connecticut. Please don't hesitate to email sales@uptonbass.com with any questions or give us a call: +1 (860) 535-9399