The award-winning Brescian Model Upton Double Bass is a custom, large-bodied 3/4 upright bass handmade in our Mystic, Connecticut workshop. It is a modern instrument with roots in the 16th century inspired by our favorite historic double basses.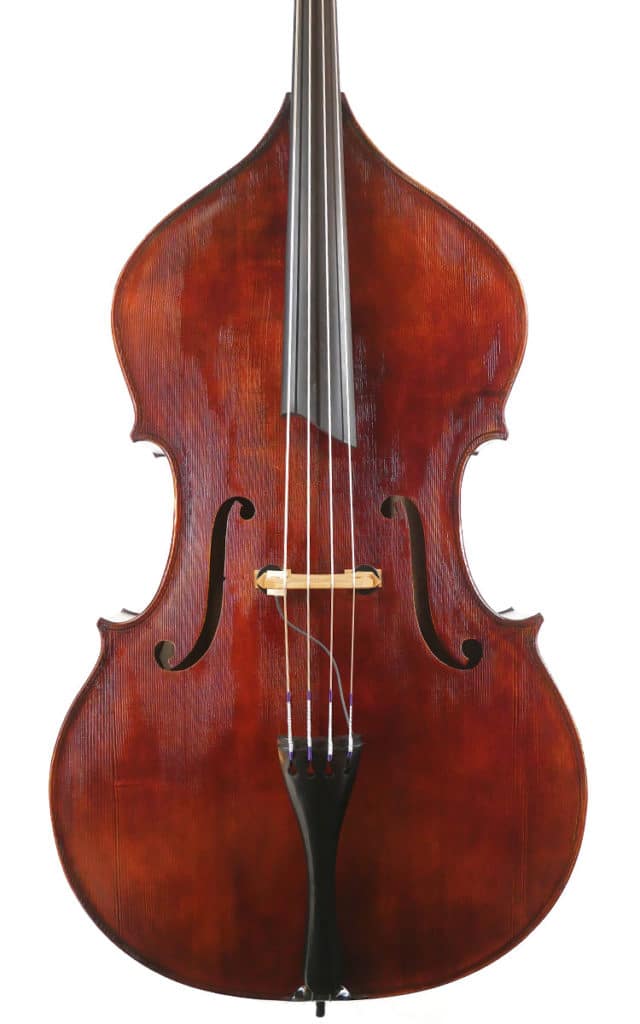 The "Brescian School" refers to a tradition of contrabass building established in the northern Italian city of Brescia in the 1500s. The instruments of this style, such as those of Gasparo Bertoletti da Salo, Maggini, and Rogeri, are dramatically characterized by their generous proportions and powerful projection. This allows the Brescian to be outstanding jazz and soloist upright basses! The style was brought to England by Vincenzo Panormo in the 18th century, influencing builders such as Lott, Kennedy, Fendt, and Hawkes over generations. Reverberations of these great instruments can be heard to this day in the robust contrabasses of Thomas and George Martin.
While Upton Bass has referenced these classic instruments before, the Brescian directly mirrors those archetypal double basses in its design — characteristics include large shoulders, violin corners, deep ribs, dramatic top arching, and pronounced canted backs. These qualities combine to create a larger air mass with great resonance and rich harmonics, packaged with the ergonomics, geometry, and accessibility that modern players expect from Upton Bass.
From the first hybrid prototype, we knew this would be a special bass! Within a year, a Brescian Model won the Best Sound Award from the European Society of Bassists at their 2012 convention in Copenhagen. Not one to settle though, Gary Upton pushed the design elements further over several versions to add to the basses playability in arco, rounding out the models ability to not only be a "jazz cannon" but to anchor an orchestral section with ease of play and organic tone.
The Brescian can be set up for jazz pushing the rhythm section with tremendous string response. While the Brescian is a sought after jazz double bass, when bowed for classical music, deep and clearly pitched pipe-organ lows will lift the string section. As one of our most flexible models, roots and bluegrass players will feel the increased depth, string feel and boom in every note. And as with all Upton Basses, whether you want a powerful jazz double bass or want to bow for classical music, we will consult with you directly to make sure we craft an instrument that is truly yours.
The Brescian is available in three build styles, with a full array of add on and upgrade items to choose from:
Hybrid Flat Back, from $6,500
Solid Wood Flat Back, from $8,500
Solid Wood Round Back, from $10,500
Click here to send a Brescian Inquiry!
Special Deluxe instruments can be commissioned using our unique selection of rare tonewoods. The Copenhagen Competition Bass is a solid wood flat back built with select English Sycamore (similar instruments approximately $15,000).
The Brescian Model Features:
Design referenced directly from the Italian and English masters
Full proportions packaged with excellent ergonomics and neck access
Pronounced arching, violin corners, full depth ribs, and Kennedy ff-holes
Long C bouts with the corners well away from the bowing region.
Angled neck heel, canted back, and modern fingerboard projection
Dark tone with rich harmonics, great projection, and volume
The Brescian is a large Upton 3/4 upright bass, but talk to us if you're looking for different sizing. Every Upton Bass Double Bass is built by hand in Mystic, Connecticut, USA. Ask about our simple financing! +1 (860) 535-9399
Featured Builds: Below are just a few examples of recently built Upton Basses to give inspiration to your dream bass. Click on a bass to see a full photo shoot and hopefully they can help point the way to an instrument that's right for you!
The quoted names are the new owners of these basses, each one unique down to the dot markers. Note the build name for options, wood choices, and varnish color references when inquiring about your potential build!