Welcome to the selection of Professional Services available at Upton Bass!
Double bass appraisals, setup, repair, restoration – this is what we do at Upton Bass every day in addition to building new instruments. All work and repairs are conducted on-site by our team of expert luthiers. We can help with everything from buying and maintaining your double bass to complete historic instrument restorations!
Click on images below to learn more. Questions? Call the shop! +1 (860) 535-9399
Appraisal Services from Upton Bass: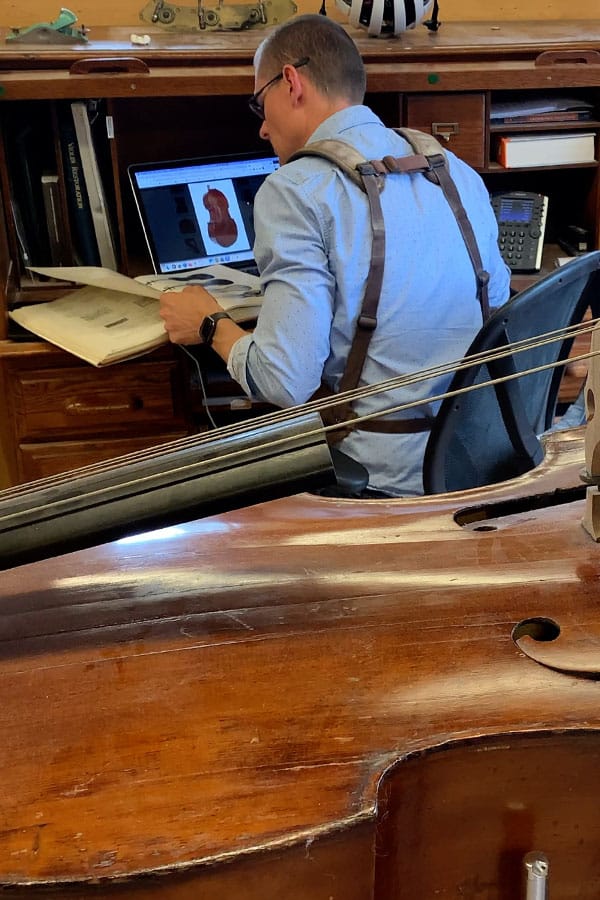 Looking for answers on the maker, age and market value of your instrument? Our Verbal Appraisal service can be done completely online. Get our expert opinion on any instrument you're considering with our Buyer's Consultation service. And our comprehensive written Bench Appraisal will give you a detailed written assessment of the condition, history and value of your fine double bass complete with photos – the best choice for insurance purposes!
When buying a new or vintage double bass from any source, let Upton Bass be its first freight destination! We can clean, accessorize, and freshen the setup of your new acquisition.
Double Bass Setup Services from Upton Bass
Upton Bass has provided world-class repair, setup, and service since the very beginning. The "Upton Setup" quickly became well-known among working bassists for outstanding comfort and response. Our qualified staff of expert luthiers are educated in all facets of lutherie, and our workshop is equipped to handle all aspects of restoration and repair. All services are done on-site at our Mystic workshop.
Double Bass Restoration Services
Upton Bass offers everything from string changes with a bridge tweak to complete restorations. Our online String Repair Portfolio gives an inside view of the Upton Bass repair and restoration process. We started our string repair site many years ago, but keep it online so you can see in detail the lengths we've gone to preserve fine double basses.
Upton Bass provides professional services in the following categories: Professional Setup, Repair & Restoration, Appraisal Services, and Bass Bow Rehairs.
Remember, the knowledgeable staff at Upton Bass String Instrument Co is always just a phone call away for any questions you may have at +1 (860) 535-9399. You can also contact Upton Bass by email at sales@uptonbass.com.