Double bass amplification! Gary's podcast Double Bass & Beyond continues.
This fall Gary's been recording a series where he aims to answer some of your most often-asked-about double bass questions. This week he dives into the topic of amplifying your acoustic bass. If it's all just being amplified anyway, why not just use a plywood? Maybe it's not quite that simple…
Keep an eye on our Podcast page as he adds more!
Double Bass Pickups! There are a myriad of double bass pickup choices out there, ranging from the simple to mixed, multiple-source bridge and fingerboard systems.
Here's our quick shop shorthand on how our Rev Solo Pickup differs from the trusty Fishman Full Circle. Using a microphones for an analogy if you are familiar, the Rev Solo when dialed in is more like a full-range Sennheiser, capturing low and high range nuance. The Full Circle is as reliable as a Sure SM57 – maybe tonally a little more compressed, but works great for sound reinforcement with very predictable peakiness. Our own Jack Hanlon has sworn by a Rev Solo plus a Fishman Preamp for decades – from coffeehouses to giant Rockabilly shows!
If you need extra help with your amplifying needs, call Gary or Jack at the shop! +1 (860) 535-9399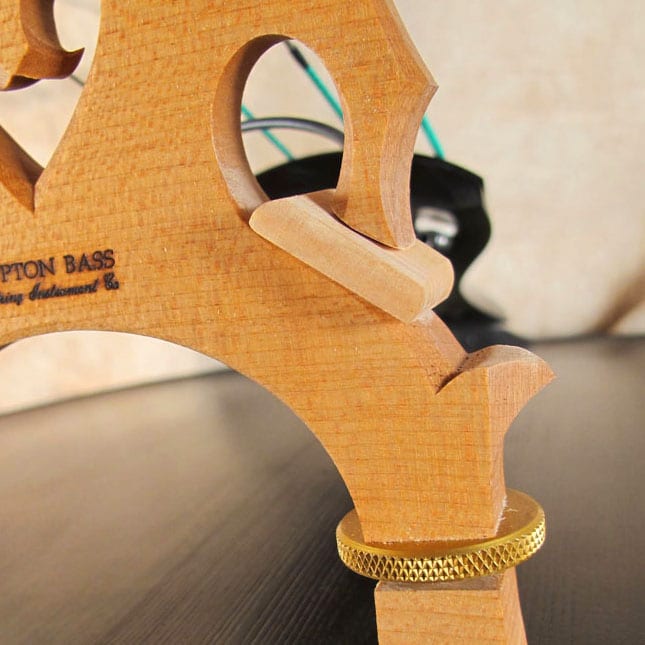 ---
Upton Bass String Instrument Co. specializes in building award-winning custom double basses and offers accessories for the double bass. Upton Bass also services all instruments and bows of the violin family with world class restoration and repair, to view our online restoration portfolio visit stringrepair.com
Upton Bass is ready to offer advice and answer any questions regarding double bass amplification or related bass topics. Please contact UB at sales@uptonbass.com or call the shop at +1 (860) 535-9399.
Hours of operation Tuesday through Saturday 10am – 6pm. The Workshop (The Barn) and showroom are located in Mystic, Connecticut conveniently between Boston and NYC.